Announcing IgnitionWeb 4.1
HTC has announced the release of IgnitionWeb 4.1, the latest upgrade to the award-winning Internet marketing platform that empowers you to Inform, Promote, and Transact online.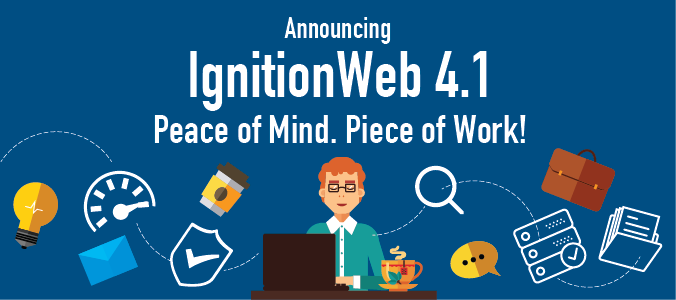 Major Improvements to Security, Functionality and Usability

HTC is proud to announce the release of IgnitionWeb 4.1, with important new features and functions that allow users to work smarter and breathe easier. The fear of losing work, getting infected, or being cyber-attacked can be brushed aside as v4.1 now adds more protection than ever before. Major additions and improvements to all Search functions and the ability to bulk-export Media Centre files also highlight the latest IgnitionWeb release.
---
The IgnitionWeb Content Safety Net
Gone is the risk of losing your work due to connectivity issues, timeouts, power failures, accidental navigation or logout. In IgnitionWeb 4.1, all work is easily recovered. Work-in-progress is now auto-saved every few seconds, providing a safety net should anything ever happen. Simply put, you don't risk losing your work ever again!
---
Security to Put Your Mind at Ease
Security is paramount for any user account, web property or digital asset. With this in mind, IgnitionWeb 4.1 has beefed-up its security by adding virus scanning for user and administrator file uploads in order to prevent wide-scale invasions of viruses, Trojans, and other malicious software. Scanning uploaded files and quarantining those that may be at risk leaves websites and servers safe and protected.
IgnitionWeb has always been secure, but v4.1 goes the extra mile and now boasts best-of-breed password protection for your first line of defense against intruders. IgnitionWeb 4.1 has taken a leap forward in maintaining the highest security standards by using the strongest encryption algorithm currently available.
---
More Intuitive and Comprehensive Search Functionality
Careers Manager now possesses advanced search functionality that makes finding the perfect candidate that much easier. To help find that star candidate, IgnitionWeb 4.1 allows administrators and hiring managers to search all user-submitted CV file contents and have the results displayed in order of relevance.
In addition, search fields across all IgnitionWeb Managers have been more intuitively placed, resulting in improved performance and an enhanced administrative experience.
Mailing List Manager also received a search makeover with a new search query algorithm for quicker access to more refined results.
---
Download Files Effortlessly
Exporting files from IgnitionWeb to a local device or network has been made simpler and more intuitive. Media Centre files and Careers Manager submissions can now be exported into a single ZIP file for easier document management. Category hierarchy is maintained during the export of Media Centre files for easy-to-find media upon extraction, while exporting CVs individually or as a batch from Careers Managers is just as painless.
---
But Wait, There's More!
Also included in the IgnitionWeb 4.1 update:
Indefinite end dates for dynamic content items
Added states in Careers Manager for improved organization and clarity
More intuitive subscriber upload summary
Multilingual character validation for advanced mailings in Mailing List Manager
Added rating filter for easy-to-sort job submissions
Improved pagination for a friendlier administrative experience
These highlights represent just a sample of the 30+ improvements that make up IgnitionWeb 4.1. A complete listing can be found within the attached Software Improvement Notice.
For the High-Touch team,
Tom Kouri & Pat Yoshida
High-Touch Communications Inc.
Related Downloads:

IW_4.1_SIN-EN_231e.pdf
(253 K)