Announcing IgnitionWeb 4.2
HTC is pleased to announce the release of IgnitionWeb 4.2, the latest and greatest upgrade to the award-winning Internet marketing platform that empowers you to Inform, Promote, and Transact online.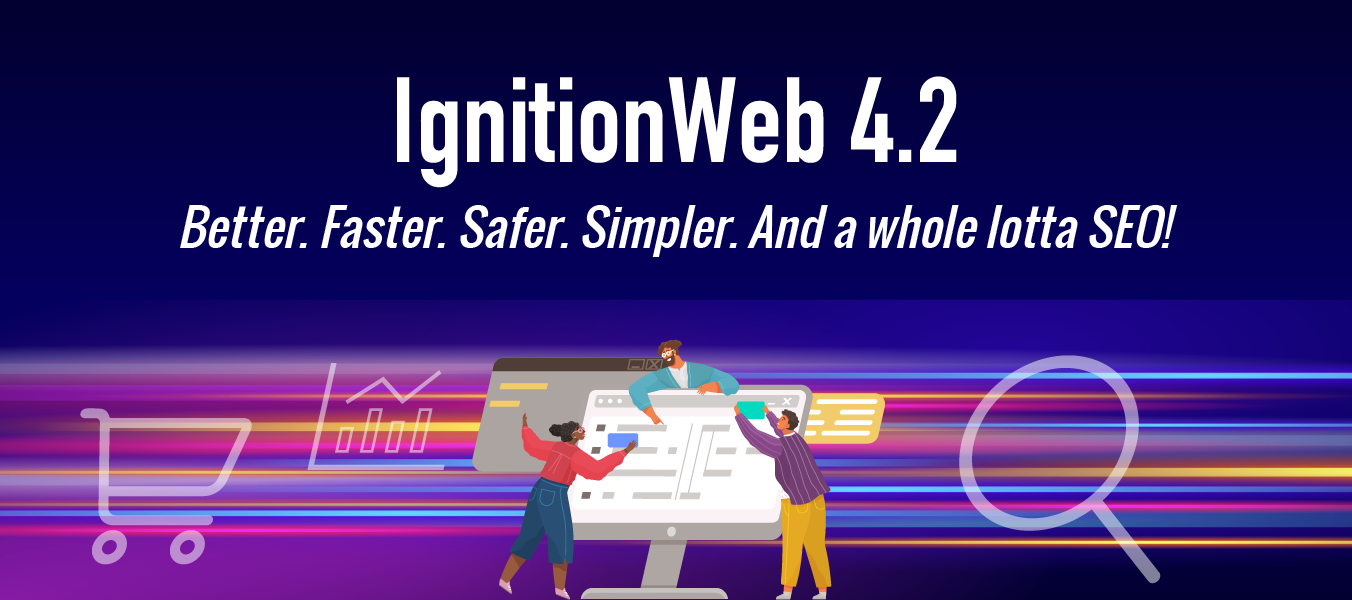 The Largest IgnitionWeb Release Ever!

We are proud to announce the release of our largest update yet that includes important new features, better performance, a host of security improvements and many usability updates.
IgnitionWeb 4.2 helps you perform better in search engine result listings, adds major features to subscriber management, simplifies how media is managed, advances the Help Text interface and includes many under-the-hood updates and improvements that go beyond software best practices.
---
Rank Higher with IgnitionWeb
Help boost your site's search engine optimization rank with the many new features within SEO Manager, such as easier meta data manipulation, content warnings, and sitemap generation. With the ability to preview how dynamic content will appear within search engine result listings, you now have more SEO control than ever before.
---
Subscriber Management Made Easy
Creating emails is now easier than ever, with an enhanced recipient selection process that's faster and more intuitive. Recipient list management has been optimized for easier organization and handling. And enhanced insights on user activities and additional subscriber log information provides the data you need to see trends and usage patterns to help make your email campaigns more successful.
---
Mastering Media in IgnitionWeb
Storing and accessing files and images within IgnitionWeb's Media Centre is now faster and more user-friendly. Media items are now displayed in a single listing for quicker access and your viewing experience has been enhanced by displaying images at full-size within a scrollable lightbox. And by popular demand, files within Media Centre Browser can now be dragged and dropped into folders, and folder trees can be expanded and collapsed as needed.
---
But Wait, There's More!
Also included in the IgnitionWeb 4.2 update:
Improved Administrator management features
More robust data, searching and result listings
New virus scanning of uploaded files
Expanded listings with more details
Revamped Help Text for faster and easier access
These highlights represent just a sample of the 100+ improvements that make up IgnitionWeb 4.2. A complete listing can be found within the attached Software Improvement Notice.
For the High-Touch team,
Tom Kouri & Kevin Miller
High-Touch Communications Inc.